Spiral Bevel Right Angle Gearboxes, 1:1 or 2:1 Ratio
2-Way and 3-Way Models. Hollow Bore and Counter Rotating Configurations Too.
Sealed, Leak Proof Gearcase
Machined Aluminum Construction
Anodized Gearcase
303/304 Stainless Steel Shafts
8620 12DP 22T Heat-Treated Case-Hardened Gears
Double Sealed Ball Bearings
Tapered Roller Bearings
Dual Lip Spring Loaded Shaft Seals
Stainless Steel Fasteners
Pre-Lubricated w/Lubriplate 1500
Zerk Porting
Stainless Steel Keys Included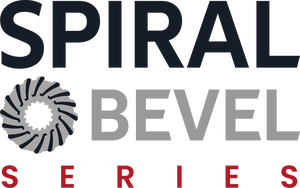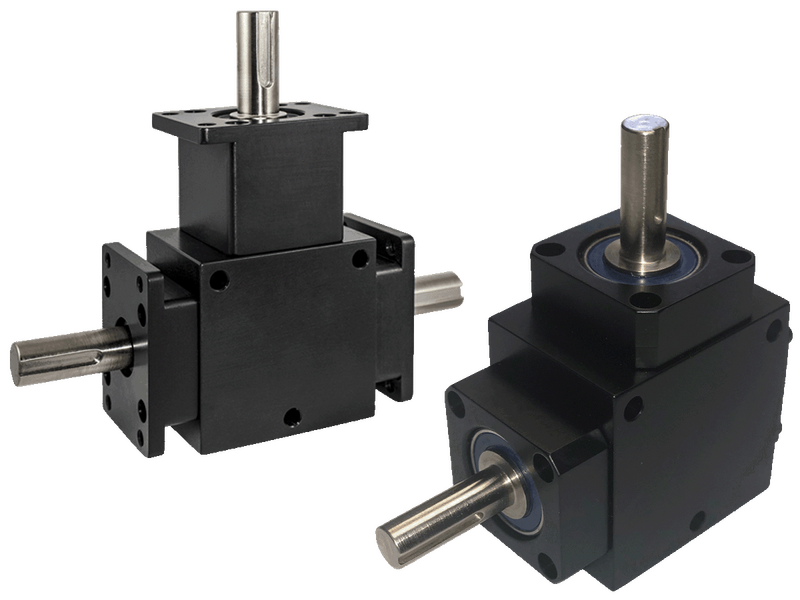 Branham Expands Spiral Bevel Gearbox Product Line
Now! 4.125 in. wide 2- and 3-Way #4303 models. Select from .750 and 1.00 inch shafts as well as 20 and 25mm shafts with metric mounting. Stainless steel keys, fasteners and shafting. A Spiral Bevel 2:1 with 5.00 wide body, 3-Way and .750 inch shafts gearbox has been added too.
Our #4304 models are 100% mounting interchangeable with like models from companies such as Zero-Max and Mitrpak. Our mattress industry series gearboxes are directly interchangeable with Cyclo-Index and Gribetz Intl.
All models are constructed with double sealed, heavy duty ball bearings and case-hardened gears.
Torque Table For 2.125 and 2.57 in. Housing Width Spiral Bevel Gearboxes
| RPM | HP | Torque, in. lb. |
| --- | --- | --- |
| 50 | .06 | 76 |
| 100 | .13 | 82 |
| 200 | .26 | 82 |
| 300 | .39 | 82 |
| 600 | .75 | 79 |
| 900 | 1.0 | 70 |
| 1200 | 1.3 | 68 |
| 1800 | 1.8 | 63 |
Torque Table For 3.188 Housing Width Spiral Bevel Gearboxes
| RPM | HP | Output Torque, in. lb. |
| --- | --- | --- |
| 50 | .07 | 93 |
| 100 | .15 | 97 |
| 200 | .30 | 95 |
| 400 | .60 | 95 |
| 600 | .73 | 77 |
| 900 | 1.1 | 77 |
| 1200 | 1.46 | 77 |
| 1800 | 2.05 | 72 |
| 2400 | 2.60 | 68 |
| 3000 | 3.09 | 65 |
Torque Table For 4.125 in. Housing Width Spiral Bevel Gearboxes
| RPM | HP | Torque, in. lb. |
| --- | --- | --- |
| 100 | 1.1 | 693 |
| 300 | 3.1 | 650 |
| 400 | 4.1 | 645 |
| 690 | 6.8 | 620 |
| 850 | 8.3 | 615 |
| 1150 | 10.9 | 600 |
| 1750 | 16.1 | 580 |
Torque Table For 5.00 in. Housing Width Spiral Bevel Gearboxes
| RPM | HP | Torque, in. lb. |
| --- | --- | --- |
| 100 | 0.7 | 876 |
| 300 | 2.0 | 829 |
| 400 | 2.6 | 815 |
| 690 | 4.3 | 788 |
| 850 | 5.2 | 777 |
| 1150 | 6.9 | 761 |
| 1750 | 10.2 | 736 |
| 2400 | 13.7 | 717 |
Branham Spiral Bevel Gearboxes
| Product # | # of Ball Bearings | # of Shafts | Model # | Housing Width (in.) | Max RPM | Max Torque, (in.lb.) | Mounting Type | Ratio | Shaft Dia. | |
| --- | --- | --- | --- | --- | --- | --- | --- | --- | --- | --- |
| 4304-0403 | 4 | 2-Way | 2SB2.125/1:1FMSBM.625 | 2.125 | 1800 | 82 | Flange & Side Base | 1:1 | .625 in. | |
| 4304-0412 | 4 | 2-Way | 2SB2.125/1:1SBM.625 | 2.125 | 1800 | 82 | Side Base | 1:1 | .625 in. | |
| 4304-0428 | 4 | 2-Way | 2SB2.125/1:1BM.500 | 2.125 | 1800 | 82 | Base Mount | 1:1 | .500 in. | |
| 4304-0401 | 6 | 3-Way | 3SB2.125/1:1FMSBM.625 | 2.125 | 1800 | 82 | Flange & Side Base | 1:1 | .625 in. | |
| 4304-0402 | 6 | 3-Way | 3SB2.125/1:1SBM.625 | 2.125 | 1800 | 82 | Side Base | 1:1 | .625 in. | |
| 4304-0416 | 6 | 3-Way Counter Rotate | 3SB2.125/1:1FMSBMCR.625 | 2.125 | 1800 | 82 | Flange & Side Base | 1:1 | .625 in. | |
| 4304-0601 | 6 | 1, Hollow Bore | 3HBSB2.57/1:1SBM.625 | 2.57 | 1800 | 82 | Side Base | 1:1 | .625 in. | |
| 4304-0602 | 4 | 2-Way | 2SB2.57/1:1SBM.625 | 2.57 | 1800 | 82 | Side Base | 1:1 | .625 in. | |
| 4304-0600 | 6 | 3-Way | 3SB2.57/1:1SBM.625 | 2.57 | 1800 | 82 | Side Base | 1:1 | .625 in. | |
| 4303-0041 | 2 | 2-Way | 2SB4.125/1:1BM.750 | 4.125 | 1750 | 693 | Base | 1:1 | .750 in. | |
| 4303-0040 | 2 | 2-Way | 2SB4.125/1:1BM1.00 | 4.125 | 1750 | 693 | Base | 1:1 | .750 in. | |
| 4303-0043 | 2 | 2-Way | 2SB4.125/1:1BM25 | 4.125 | 1750 | 693 | Base | 1:1 | 25 mm | |
| 4303-0045 | 2 | 2-Way | 2SB4.125/1:1BM20 | 4.125 | 1750 | 693 | Base | 1:1 | 20 mm | |
| 4303-0030 | 3 | 3-Way | 3SB4.125/1:1BM1.00 | 4.125 | 1750 | 693 | Base | 1:1 | 1.00 in. | |
| 4303-0031 | 3 | 3-Way | 3SB4.125/1:1BM25 | 4.125 | 1750 | 693 | Base | 1:1 | 25 mm | |
| 4303-0042 | 3 | 3-Way | 3SB4.125/1:1BM.750 | 4.125 | 1750 | 693 | Base | 1:1 | .750 in. | |
| 4303-0044 | 3 | 3-Way | 3SB4.125/1:1BM20 | 4.125 | 1750 | 693 | Base | 1:1 | 20 mm | |
| 4303-0050 | 3 | 3 | 3SB5.00/2:1BM.750 | 5.00 | 2400 | 876 | Base | 2:1 | .750 in. | |